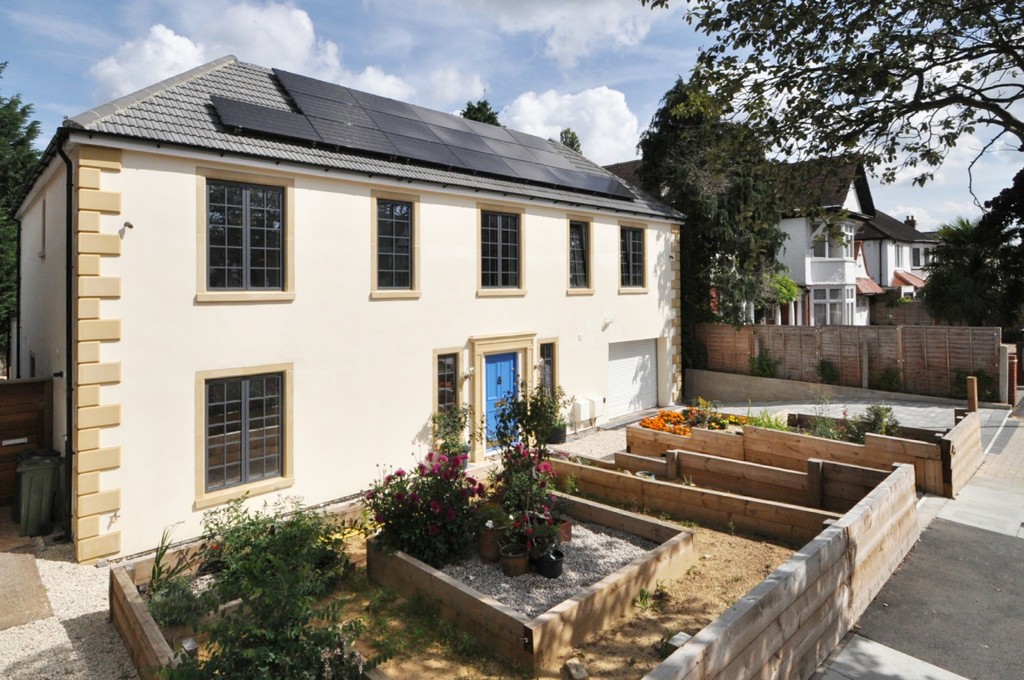 Project address:
Avondale Rd Bromley BR1 4EP
Type of property:
Detached 1930's bungalow
Description of proposed work:
Two-storey front extension and single-storey rear extension. This included alterations to front roof slope and the addition of solar panels.
Type of planning approval required for this project:
Full householder planning permission
Client requests and concerns:
My client first got in touch with me after his previous architect, after many months of trying, could not gain planning approval. My client purchased his property with the intent of adding an additional floor, usable roof space and rear extensions, to maximise the property's potential for his young family. He requested four bedrooms, all with en suite bathrooms, a cinema room, office and large open-plan living space. The whole build also needed to be eco-friendly. My client was concerned about his neighbours complaining and the application being refused again.
Services client requested:
Architecture
Building Consultancy
Architecture
Foreseeable problems and concerns during the site survey and designs consultation:
There were a few tree roots that would potentially require twice-as-deep concrete foundations. The existing sewer drains were also very shallow.
How these problems were resolved:
Our in-house experienced structural engineer designed special foundations to overcome the potential extra cost my client would have had to pay. We designed new sewer drains in specific places around the house with internal soil pipes, allowing my client to have his four en suite bathrooms in whatever place he wished.
Problems with planning approval?
No. Based on our new designs and being considerate to the street scene and relationships with neighbouring properties, planning approval went through easily.
Building Consultancy
What third-party services did you set up for the client?
CDM health & safety:
The responsibility for health and safety was with the building contractors and not my clients. This was achieved by my emailing the building contractor a form that needed to be filled in, discussed and checked.
Building control:
We used a private building control company on this project which provided us with additional support 24 hours a day, 7 days a week. The company provided an experienced building control officer to attend site when building works are going on to check certain elements of the building project as the it progressed. Building control signed off the project and issued a completed certificate.
Party wall matters:
As we did not fall within the Party Wall Act, there was no need to employ a party wall surveyor.
Structural calculations:
My client had a friend who was a structural engineer with whom we worked very well.
Thames Water build over agreement:
We set up the Thames Water build over agreement well before building work started to save on potential delays.
Construction Site Management
Support given during builder selection:
We checked work schedules and payment plans given to my client by the building contractor and made a few recommendations to balance out the payments.
Problems or delays with the build:
There were only a few delays and problems during the build due to the weather and a few materials turning up a bit late.
Building work completed:
Building work was completed successfully.  The project was a little over time and budget, but the overall finish of the job was an excellent one.
Client review:
"Terry and his team are a very professional and pleasant team to work with. There was always a willingness from Terry to understand our requirements above and beyond what we asked of him! Very happy to recommend him. It was a delight to work with him and hope to work on more projects."
Mr Raj, Bromley
Talk to the team at Wilson Architectural Building Designs. We're here to help and advise you on all aspects of architectural design and all parts of your project.
Call 0208 306 5110 or email .