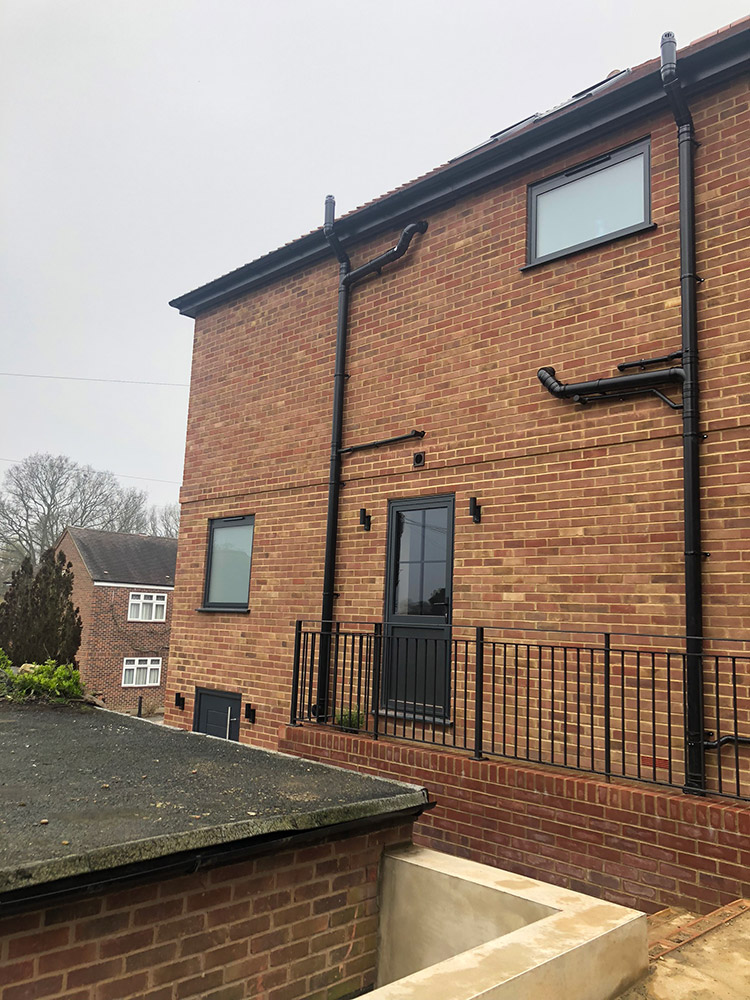 Project address:
Elmlee Close, Chislehurst, Kent, BR7 5DU
Type of property:
1930's semi-detached house
Description of proposed work:
Two-storey side and rear extension, including single rear extension, loft rooms, basement entrance hall and internal alterations.
Type of planning approval required for this project:
Full householder planning permission
Client requests and concerns:
Our clients had a house with a large amount of land around it, so they wanted to extend the property to accommodate their growing family. They needed five bedrooms with en suites, an open-plan kitchen, and a dining and snug area. They also wanted utility rooms and a ground floor WC. They were concerned about the fact that the ground surrounding the property was very steep.
Services client requested:
Architecture
Building Consultancy
Architecture
Foreseeable problems and concerns during the site survey and designs consultation:
We carried out a thorough site survey and design consultation to ensure we understood the property and ground levels. We knew ground levels were going to be a challenge and wanted to ensure we found the appropriate solutions.
How these problems were resolved:
We decided to make a part-basement entrance hall with a gallery staircase to accommodate the sloping ground level, saving thousands of pounds. This gave easy access to the new side entrance and patio area, and we also formed a basement boiler and storage room.
Problems with planning approval?
Planning consent was challenging due to the size of the proposed extension and the surrounding area, and the proposal had to be made in two stages. We have a very good working relationship with the local council planners and managed to negotiate planning approvals. We got everything approved that the client wanted.
Building Consultancy
What third-party services did you set up for the client?
CDM health and safety:
We worked closely with the chosen building contractors to make sure site safety would be their responsibility, getting all the necessary paperwork filled in.
Building control:
We chose to work with a private building control company, offering 24-hour contact if needed. They supplied an experienced building control officer to the site, who was able to check all elements of the build as it progressed. They were then able to sign off the build and issue the client with their design certificate.
Party wall matters:
A party wall surveyor was not needed due to the client's good relationship with neighbours.
Structural calculations:
The client used their own structural engineer and we worked closely alongside them.
Thames Water build over agreement:
We set up the build over agreement with Thames Water before the building work had even started, protecting the client against delays.
Construction Site Management
Support given during builder selection:
We helped with builder quotations, weekly work schedules and payment plans. We were present at the final meeting with the client and building contractor. Various parts of the build were discussed to ensure all parties were happy, and clear on expectations.
Problems we overcame:
When the build got underway in the winter months, the client was asked to pay additional charges for scaffolding to cover exposed areas during the roof works. As this area had been overlooked, we managed to get a substantial discount for the client. Both client and contractor were happy with the outcome.
Building work completed:
Building works were completed successfully, on time and on budget.
Client Review:
"Our experience to date of working with Terry has been excellent. He is very professional, responsive and also very personable. We had actually engaged another architect but were not satisfied with our progress, so I had contacted Terry informally. Terry was available and immediately understood our requirements, so we decided to continue our project with Terry. From the outset Terry was able to propose an innovative and workable solution to a constraint which we had been unable to find an agreeable solution to previously. Terry was able to provide useful advice on the planning process and also to suggest cost-effective solutions for the project. We met with a number of architects and felt that Terry was genuinely interested in our requirements and proposing innovative and interesting solutions as opposed to just doing the standard, meanwhile always with an intention to save money on the build. My partner and I both work full time and have young children, so Terry's availability to come to our house in the evenings at no extra cost has been invaluable. The all-inclusive quote received for the project was competitive and within that there was a generous allowance for amendments and changes at no extra cost. From speaking with a friend recently going through a similar process and hearing about the difficulties she has experienced with her architect solidifies the importance of having a good architect and the difference to the overall experience it can make. We are still going through the process but to date Terry and his team have been efficient, professional and a pleasure to work with. We would recommend Terry with no hesitation."
Margaret Kakaire, Chislehurst
Talk to the team at Wilson Architectural Building Designs. We're here to help and advise you on all aspects of architectural design and all parts of your project.
Call 0208 306 5110 or email .