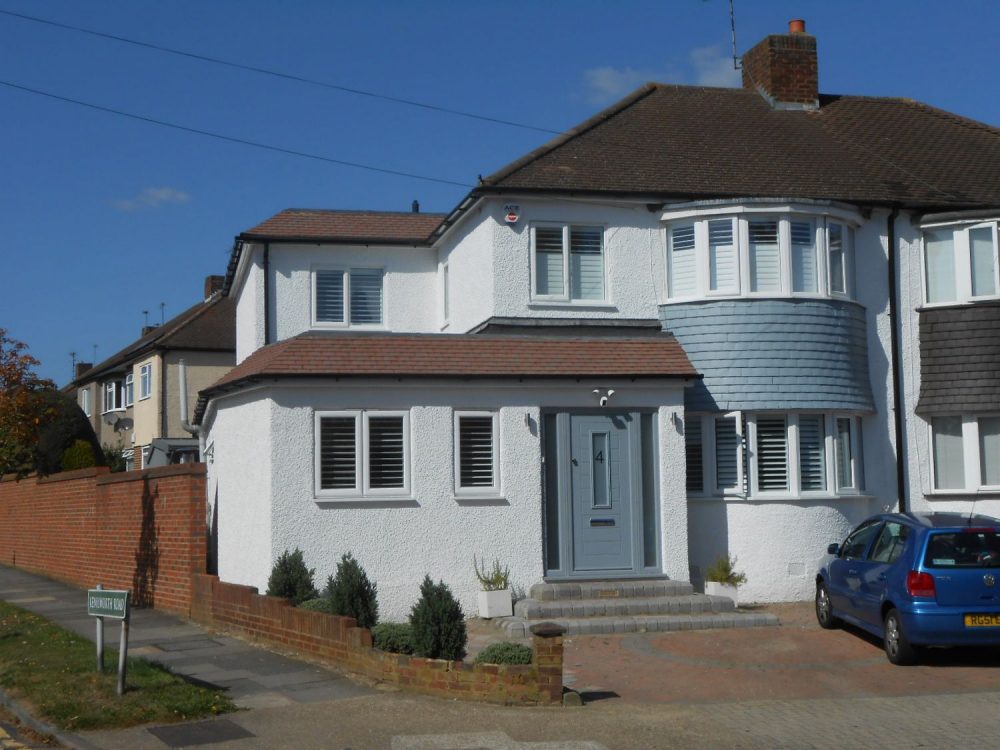 Project address:
Ryecroft Road, Orpington
Type of property:
4 bedroom semi detached.
Description of proposed work:
2nd storey side extension.
Type of planning approval required for the project:
Full Householders Planning Permission.
Clients requests and concerns:
The client wanted a 2 storey side extension but because it's a corner plot they couldn't have what they wanted. The problem was Bromley planners like to keep open spaces on the side of roads. We chatted and I suggested to them to think what they actually need rather than want. They said was an extra bedroom. I suggested to go for a first floor side extension but we will start it half way down the house. They also wanted a front office/study, ground floor bathroom and a snug room.
There biggest concern was that the previous architect had told them that they would never be able to have a side extension at all, to which they contacted me and I managed to sort it all out for them.
Services client requested:
Architecture
Building Consultancy
Architecture
Foreseeable problems and concerns during the site survey and designs consultation:
None.
How these problems were resolved:
N/A
Problems with Planning approval.
Terry had spoken to the planning officer at Bromley and they were satisfied with our design but due to a few complaints from the neighbours it had to go to committee, i.e. a court case and its decided by the councillors of Bromley by a vote.
Building Consultancy
What Third-party services did you set up For the Client:
CDM Health & Safety:
We worked closely with building contractors, making sure they took responsibly for site safety and completed all paperwork.
Building Control:
We worked with a private building control company who could be reached 24 hours a day, 7 days a week. An experienced building officer was assigned to the site to check building work as the project progressed, signing it off and issuing a certificate of completion.
Structural Calculation:
We arranged for structural calculations to be undertaken by one of my recommended engineers.
Thames Water build over agreement:
We set up the Thames Water build over agreement well before building work started, to help avoid potential delays.
Building Works Completed
Building works completed on time and on budget.
Client Review:
"Terry has provided a professional service providing us with ideas and helping us make decisions. I would have no hesitation in recommending him and his company to all our contacts.
We have a corner plot property and were looking to extend at the front and side of our house. Being a corner plot there are restrictions on what we can build in regard to a double storey, However Terry listened to our requirements and what we were trying to achieve and then matched that information with his extensive knowledge of local building control. Terry carefully drew and submitted fantastic plans which satisfied our requirements and fell in line with what is likely to be accepted by our local planning department. We were delighted to find that our planning application was approved and are excited to move forward with the project. I would have no hesitation in recommending the services of Terry Wilson to all my contacts."
Talk to the team at Wilson Architectural Building Designs. We're here to help and advise you on all aspects of architectural design and all parts of your project.
Call 0208 306 5110 or email .