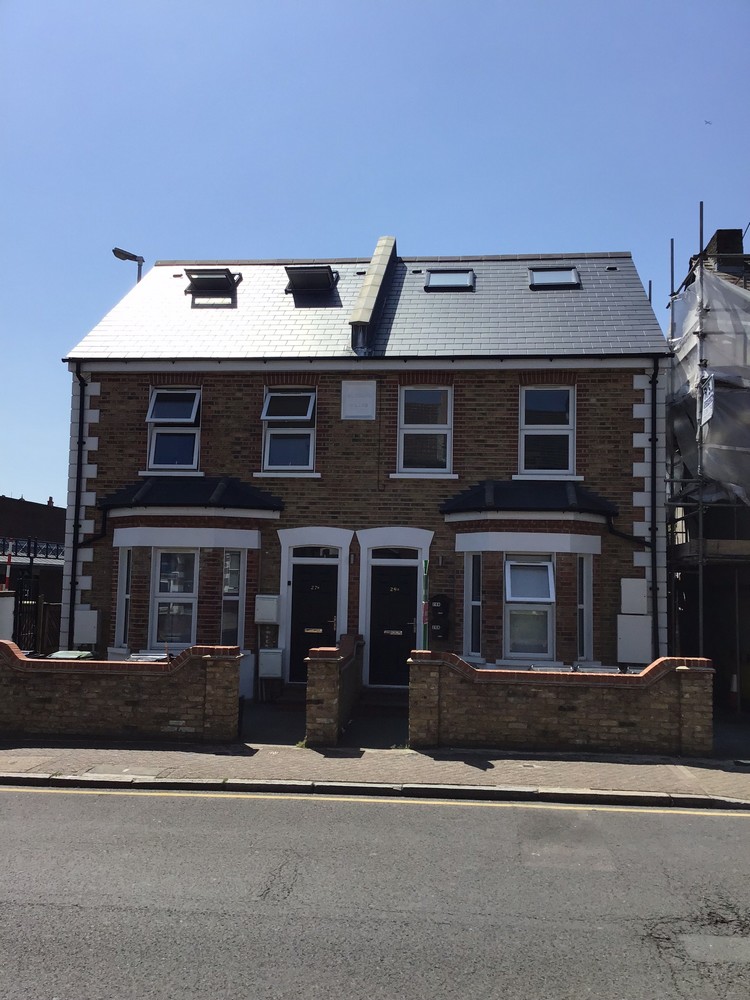 Project address:
27–29 West Street, Bromley
Type of property:
27 West Street: two-bed semi-detached Victorian property that had already been converted into 2 one-bedroom flats.
29 West Street: The adjoining property to 27 West Street which was a derelict 3-bedroom house.
Description of proposed work:
Two-storey side and rear extension with a loft conversion and conversion of both houses into 1 two-bedroom flat and 1 three-bedroom flat.
Type of planning approval required for the project:
In order to secure planning approval we used three separate planning applications.
This was because the property was in a conservation area and we therefore had to be considerate with design. To secure permission we had to separate each component of the house and apply for planning consent in stages. The project was too big to get approved in one application.
Client requests and concerns:
The client is a property developer and wanted to maximise the property for rental purposes. His concerns were whether he would get planning approval and how we would go about it.
Services client requested:
Architecture
Building Consultancy
Architecture
Foreseeable problems and concerns during the site survey and design consultation included:
Number 29 was a derelict house and had severe structural problems with both the existing external and internal walls.
How these problems were resolved:
Terry recommended that they meet on site with a structural engineer at an early stage to avoid problems and delays.
Problems with planning approval?
Apart from the single-storey and double-storey rear extension, the planners asked us to reduce the size of the proposed loft conversions. The client was happy to do as it gained approval and allowed the construction works to begin.  The client was happy to do so as it secured planning approval and allowed the construction work to begin.
Building Consultancy
What third-party services were set up for the client?
CDM health & safety:
We worked closely with the building contractors, making sure they took responsibility for site safety and completed all paperwork.
Building control:
We worked with a private building control company who could be reached 24 hours a day, 7 days a week. An experienced building control officer was assigned to the site to check building work as the project progressed, signing it off and issuing a certificate of completion.
Structural calculations:
We arranged for structural calculations to be undertaken by one of my recommended engineers.
Thames Water build over agreement:
We set up the Thames Water build over agreement well before building work started, to help avoid potential delays.
Building work completed
Building works were completed successfully despite some budget and timing issues due to inexperienced contractors.
Client Review:
"I first met Terry 5 years ago and his genuine nature and professionalism instantly shone through. He is the kind of person that actually cares about your project as if it was his own and he doesn't waste time for his own financial reasons. Since our first project together, which was a large rear and side extension plus a massive loft conversion, Terry has gone on to help me redesign and gain planning permission for 7 other properties. He has saved me thousands of pounds. Can I truly say a very big thank you to Terry? I would recommend him to everyone."
Talk to the team at Wilson Architectural Building Designs. We're here to help and advise you on all aspects of architectural design and all parts of your project.
Call 0208 306 5110 or email .