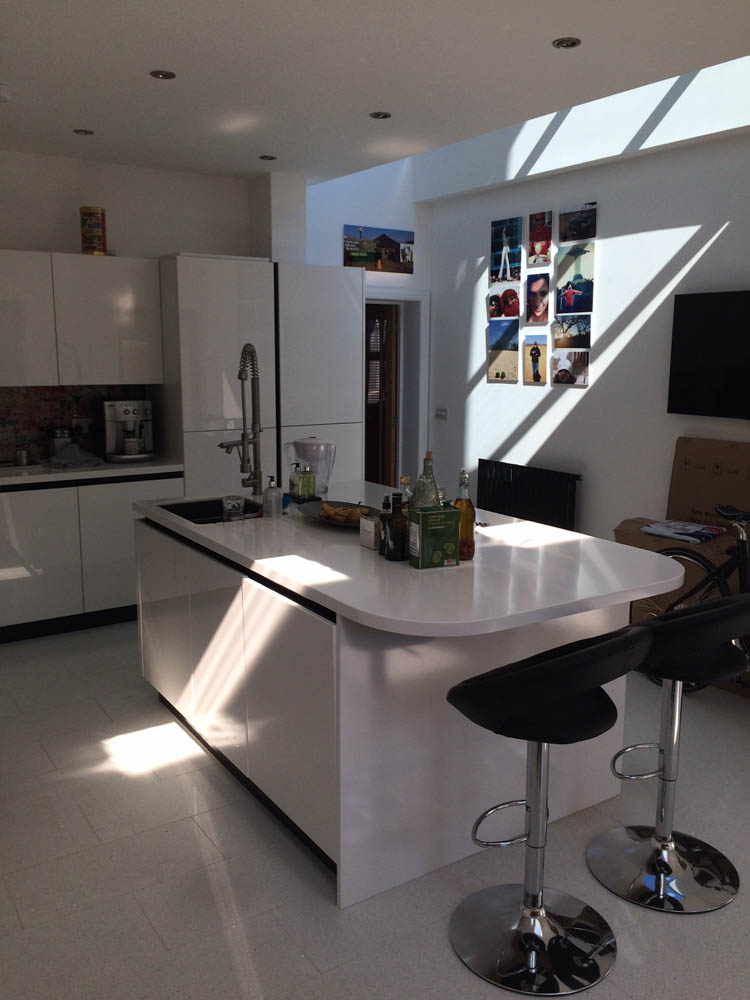 WYNDCLIFF ROAD CASE STUDY
Project address:
Wyndcliff Road, Charlton, London, SE7 7JX
Type of property:
Victorian mid-terrace house
Description of proposed work:
Single storey rear extension & internal alterations
Type of planning approval required for this project:
Full householder planning permission
Client requests and concerns:
Our client wished to have a larger kitchen with dining room and snug areas, as well as a ground floor WC and lots of storage, including a kitchen island. He was concerned about how he would live while building work was going on, so having the right contractor was important.
Services client requested:
Architecture
Building Consultancy
Architecture
Foreseeable problems and concerns during the site survey and design consultation:
We were confident the build would be successful if the client ensured the builder's questionnaire was properly followed.
How these problems were resolved:
The builder's questionnaire was given to the client along with his first set of drawings.
Problems with planning approval?
Planning approval was granted simply and quickly.
Building Consultancy
What third-party services did you set up for the client?
CDM health and safety:
We worked closely with the building contractors, making sure they took responsibility for site safety and completed all paperwork.
Building control:
We worked with a private building control company which could be accessed 24 hours a day, 7 days a week. An experienced building control officer was assigned to the site to check building work as the project progressed, signing it off and issuing a certificate of completion.
Party wall matters:
No party wall surveyor was required as our client and his neighbours were good friends.
Structural calculations:
We used our local structural engineer to design the steel beam and timbers needed to complete the extension.
Thames Water build over agreement:
We set up the Thames Water build over agreement well before building work started, to help avoid potential delays.
Construction Site Management
Support given during builder selection:
We helped with builder quotations, weekly work schedules and payment plans.
Issues we overcame:
We had to offer our advice and support when the client's main building contractor went out of business part way through the build. The subcontractors remained on site, but the standard of the work started to slip. Upon our advice, the client instructed them to leave. He was able to get the project finished and rectify the issues left by the previous contractors without going over budget.
Building work completed:
Building works were completed successfully despite the issues with contractors.
Client Review:
"I have been extremely impressed with the service offered by Terry Wilson and his company. In addition to the planning drawings and building regulations drawings, the company's service included submitting the planning application to the local authorities and obtaining all other documentation needed prior to the build. This has been invaluable for someone with a busy day job and made the process run smoothly and efficiently. The service offered included advice throughout the design and building process. A full building pack was supplied to advise on the tender process with contractors, and the company has liaised with suppliers about the supply of cost of materials (e.g. bi-fold doors and glasswork for the roof). Most impressive of all was the time taken at the start of the project to listen and understand our requirements and to design the extension around these. I would have no reservations in recommending the company to friends or family."
Dr Benjamin Hawkins, London
Talk to the team at Wilson Architectural Building Designs. We're here to help and advise you on all aspects of architectural design and all parts of your project.
Call 0208 306 5110 or email .